티스토리 뷰
개인적인 사정으로 그동안 바빠 업데이트가 늦어졌습니다. 죄송합니다.
ElvUI 3.15 : Meat Edition 업데이트 변경사항

- Omen/Recount 끼워넣기 옵션 부활 (/ec - 스킨탭에서 사용 가능)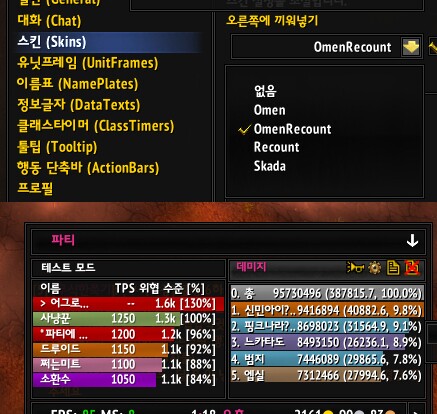 - Omen 3.1.6 버전 업데이트
- Recount 4.3.0c 버전 업데이트
- ElvUI 3.15 업데이트
v3.15
* Add system to tell users that their version of ElvUI is out of date when they join party/raid with someone who has a higher verison.
* Add option to the general config area called "Map Transparency" this controls what the world map's transparency is set to while your character is moving. (Idea stolen from SWTOR)
* Fix issue created last version where other people's debuffs were not showing up gray.
* Arena frame debuffs no longer show up gray when applied by someone else.
* Party Pets gets its own config section under Party Frames. You can now change the width, height, anchor points, xOffset and yOffset of the party pet frame.
* Add Castbar Tick option. (/ec -> unitframes -> player -> castbar) This option will display tick marks on the castbar when casting a channeled spell like drain soul. Also, unlike how it was in v2 this option now correctly updates the amount of ticks per channeled spell based on your haste. (Drain Soul and a few other spells.)
* Fix an issue preventing users from linking items in chat.
* Fix issue with the copy frame not copying the entire chat frames text, it was only copying the text that was visible.
* Fix issue when highlighting the mouse over actual bag slots, the slots that didn't belong to that bag weren't correctly going transparent.
* The Chat Backdrop Texture option has been reworked so you can drop a .tga image file into your main World of Warcraft folder and specify the file in the config, or you can specify a directory to get the image from. This way users don't have to re-add the image to the ElvUI/media/textures folder everytime they update the UI.
* Fix rare nameplate lua error.

v3.14
* Fix Blizzard RaidFrame taint. (Raid Frames that allow you to move raid members around was completely not showing up in combat.)
* Add a /resetgold command to reset the gold datatext.
* Fix a lua error when changing the portrait camera scale to 0.01.
* All BattleGround messages are now fed to the Blizzard boss warning message (big yellow text in the center of the screen). This should help many people like myself who miss seeing when someone drops a flag in WSG or TP.
* Added a option to nameplates to display healer icons over enemy players who are spec'd into healing for all battlegrounds.
* Fix an issue with nameplate debuff icons. Having a debuff displayed that didn't have a duration would cause the entire nameplate debuff frame to blink rapidly.
* Update oUF Framework to the latest version.
* Minor change to the way ElvUI generates unitframe names. (ElvUI_Targettarget is now properly named ElvUI_TargetTarget). What this means for users is some frames may be reset to their default position. (TargetTarget, FocusTarget frames). If you have moved them.
* Update ElvUI License to 2012.
* Removed the Dismiss pet option from the right click menu on the pet frame for hunters. As this option cannot be called unless using BlizzardUI.
* Add Party Pet option to the party frames. This allows frames to be generated above party frame that displays their owners pets.
v3.13
* Fix a critical coding mistake.
v3.12
* Russian Localization
* Taiwanese Localization
* Raid Debuff for the raid frames was placed in the 40 man option, this should of been in the 25 man option.
* Changed/Added some CVars that get set in the installation process.
v3.11
* Add MainTank/MainAssist frame support.
* Add IncomingHeal Support to player, target, focus, pet, party,raid625, raid2640 frames.
* Increase the rate at which health updates for all raid/party frames.
* Add vote to kick option to the raid frames right click menu for LFR.
* Fixed an error for when sometimes servers weren't returning the time after a server restart.
* Add option to set a chat panel texture by adding custom files. Discuss Here for support: http://www.tukui.org/forums/topic.php?id=19377
* Add Spanish/Mexican Localization
* Apply proper filters to the arena frames for buffs/debuffs.
* Right Click on the Arena/Boss frame should now set the unit as your focus.
* Fix not being able to change arena frame settings from in-game GUI.
최근에 올라온 글
최근에 달린 댓글
글 보관함
Total

118,728
Today

26
Yesterday

25